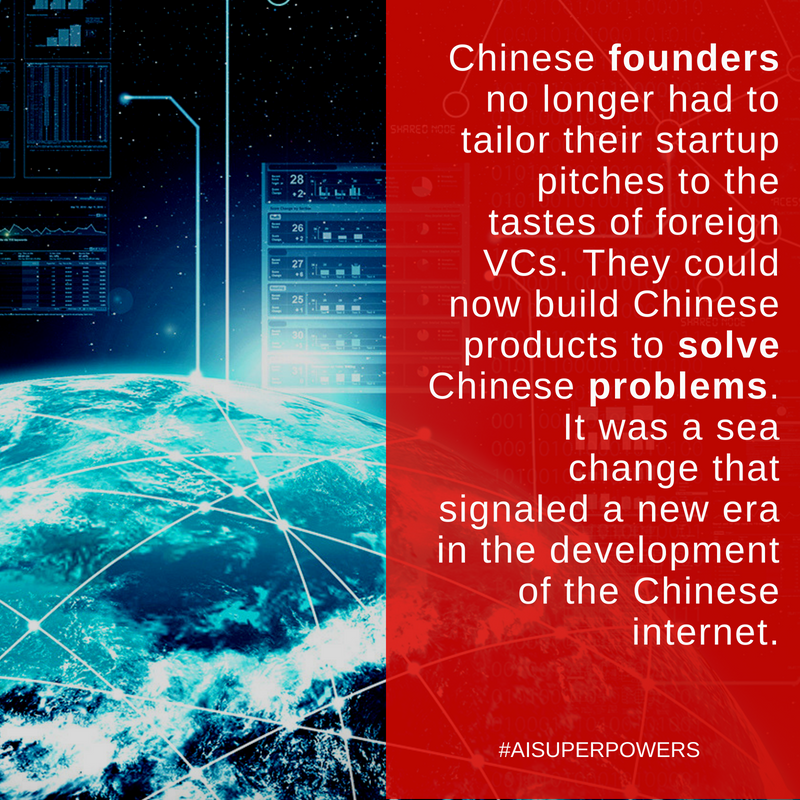 The Beginning of China's Alternate Internet Universe
<!—- ShareThis BEGIN -—>

<!—- ShareThis END -—>

Guo Hong is a startup founder trapped in the body of a government official. Guo is always dressed in a modest dark suit and wears thick glasses. When standing for official photos at opening ceremonies, he looks no different from the dozens of other identically dressed Beijing city officials who come out to cut ribbons and deliver speeches.

During the two decades leading up to 2010, China was governed by engineers. Chinese officialdom was packed with men who studied the science of building physical things, and they put that knowledge to work transforming China from a poor agricultural society into a country of bustling factories and enormous cities. But Guo represented a new kind of official for a new era in which China needed to both build things and create ideas.

Put Guo alone in a room with other entrepreneurs or technologists and he suddenly comes alive. Brimming with ideas, he speaks quickly and listens intently. He has a voracious appetite for what's next in technology and an ability to envision how startups can harness these trends. Guo thinks outside the box and then takes action on the ground. He is the kind of founder that venture-capital investors love to put their money behind.

All of these habits came in handy when Guo decided to turn his slice of Beijing into the Silicon Valley of China, a hotbed for indigenous Chinese innovation. The year was 2010, and Guo was responsible for the influential Zhongguancun ("jong-gwan-soon") technology zone in northwest Beijing, an area that had long branded itself as China's answer to Silicon Valley but had not really lived up to the title. Zhongguancun was chock-full of electronics markets selling low-end smartphones and pirated software but offered few innovative startups. Guo wanted to change that.

To kick-start that process, he came to see me at the offices of my newly founded company, Sinovation Ventures. After spending a decade representing the most powerful American technology companies in China, I left Google China in the fall of 2009 to establish Sinovation, an early-stage incubator and angel investment fund for Chinese startups. I made this move because I sensed a new energy bubbling up in the Chinese startup ecosystem. The copycat era had forged world-class entrepreneurs, and they were just beginning to apply their skills to solving uniquely Chinese problems. China's rapid transition to the mobile internet and bustling urban centers created an entirely different environment, one where innovative products and new business models could thrive. I wanted to be a part of both mentoring and funding these companies as they came into their own.

When Guo came to visit Sinovation, a core team of ex-Googlers and I were working out of a small office that was located northeast of Zhongguancun. We were recruiting promising engineers to join our incubator and launch startups targeting China's first wave of smartphone users. Guo wanted to know what he could do to support that mission. I told him that the cost of rent was eating a big chunk of the money we wanted to pour into fostering these startups. Any relief on rent would mean more money for building products and companies. No problem, he said—he would make some calls. The local government could likely cover our rent for three years if we relocated to the neighborhood of Zhongguancun.

That was fantastic news for our project, and even better, Guo was just getting started. He didn't want to only throw money at one incubator. He wanted to understand what really made Silicon Valley tick. Guo began peppering me with questions about my time in the valley during the 1990s. I explained how many of the area's early entrepreneurs went on to become angel investors and mentors, how geographic proximity and tightly woven social networks gave birth to a self-sustaining venture-capital ecosystem that made smart bets on big ideas.

As we talked, I could see Guo's mind working in overdrive. He was absorbing everything and formulating the outlines of a plan. Silicon Valley's ecosystem had taken shape organically over several decades. But what if we in China could speed up that process by brute-forcing the geographic proximity? We could pick one street in Zhongguancun, clear out all the old inhabitants, and open the space to key players in this kind of ecosystem: VC firms, startups, incubators, and service providers. He already had a name in mind: Chuangye Dajie—Avenue of the Entrepreneurs.

This kind of top-down construction of an innovation ecosystem runs counter to Silicon Valley orthodoxy. In that worldview, what really makes the valley special is an abstract cultural zeitgeist, a commitment to original thinking and innovation. It's not something that could have been built merely using bricks and rent subsidies.

Guo and I both saw the value in that ethereal sense of mission, but we also saw that China was different. If we wanted to bootstrap this process in China today, money, real estate, and government support mattered. The process would require getting our hands dirty, adapting the valley's disembodied innovation ethos to the very physical realities of present-day China. The result would leverage some of the core mechanisms of Silicon Valley but would take the Chinese internet in a very different direction.

That ecosystem was becoming both independent and self-sustaining. Chinese founders no longer had to tailor their startup pitches to the tastes of foreign VCs. They could now build Chinese products to solve Chinese problems. It was a sea change that altered the very texture of the nation's cities and signaled a new era in the development of the Chinese internet. It also led to an overnight boom in production of the natural resource of the AI age: data.